I'm having a massive sale. Cartoons, old school anime, apparel- EVERYTHING must go, people! All items come from a smoke-free home. If you see something you like but it's a bit too high for you, make me an offer- it's not out of the question that I'll lower the price. Please help out a fellow con-goer who can barely afford to make it this year. Now on to the goods!
Tak, The Hideous New Girl from Invader Zim full costume. Includes dress, boots, wig, and plush Mimi. Dress (worn only once) was originally made for me, and I am a 5'1" 115 lb. female, to give an indication of the size. Boots are Demonia women's platform calf with pink stitching, size 6. The wig was worn only once. $150 for the whole lot (Believe me, I paid a lot more for everything individually!)
Laughing Vampire Burgandy Renaissance Fair Top with Bell Sleeves and Ribbon Tie in Back, size S/M. $12
Red and black tiger stripe fuzzy coat, size Small. Excellent piece to build a Halloween costume around, or just to keep warm in winter! $25
Crown of Hearts Black Tulle Skirt with Elastic Waist, size Large. Ignore the odd yellowish tinge on the right side- it was a camera boo-boo. $7
Bandolino Black Pointy-Toe Heels, size 5M. Worn only a few times. $20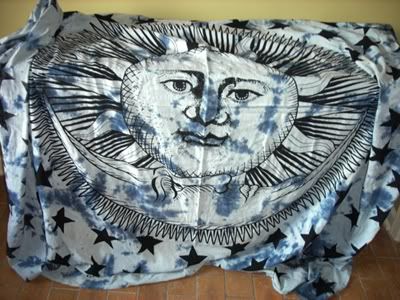 Large Blue Sun and Moon Wall Tapestry. $10
Large Green Man Wall Tapestry. $10
UFO Catcher Dolls. From Left to Right: Sailor Venus of Sailor Moon (has a minor spot of fading on her bow), Urd of Ah! My Goddess, Kero-Chan of Card Captor Sakura. $2 each or $5 for the lot.
Alphonse Elric Pillow. The thread has pulled in a few places, but is otherwise fine. $7
Grateful Dead Acid Bear. $7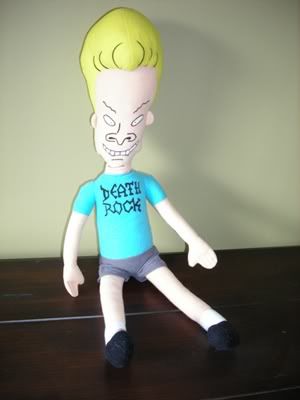 Plush Beavis Doll. $7
Tin Nightmare Before Christmas Coffin Tin with Handle. Has some dings and scratches. $3
Teen Titans 1.5 comic book heroes sets, series 1. $5 each or $8 for both.
Miss Bitters Action Figure Set. Comes with all original accessories. $7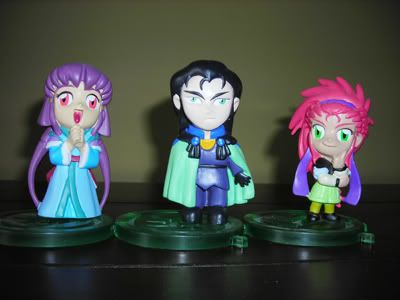 Tenchi Muyo Figure Set. Left to Right: Ayeka, Kagato, Washuu. $5
Armitage Action Figure. Comes with all original accessories. $5
More...