08-21-2011, 04:49 PM
| | | | |
| --- | --- | --- | --- |
| | Good Robot | | |
Doctor Who Q&A at the BFI
---
Thanks to
lifeofwylie
, we have a transcripted version of the BFI Q&A. Don't worry, it's spoiler free! Here is a large section of it, but because it's so big, you should head over to
lifeofwylie
to read the rest.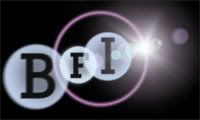 Q: When you sat down to write the episodes that introduced River Song, did you know what fate had in store for her?

Steven Moffat: "No. At that point I was just thinking it was kind of a one-off character and she could have been involved in some way or another, who knows, with the 58th Doctor. But Alex (Kingston) was so good that it just seemed such a fun thing to bring her back. By the time I was thinking of Amy Pond – I thought that was pretty bloody obvious, actually – I was thinking, 'Yes, the reveal could probably be she was the daughter.' Obviously I needed other get outs – Karen might have left. But from a fairly early point, yeah.

"The great thing about writing the River Song story is, it looks much cleverer than it is in a way because it's backwards. From her point of view, of course, it isn't. But you are telling that story, you are revealing it stage by stage backwards. So like all magic tricks it looks cleverer than it is."

Q: To what extent are you (Karen and Arthur) always in on the secret of River Song?

Karen Gillan: "We did not know for a long time who she was. Not until we got to the readthrough of episode seven. And then we didn't even find out at the readthrough, we found out in the corridor afterwards – it was a dummy ending, right?"

Arthur Darvill: "We're constantly speculating and coming up with things that weren't as good as what Steven had written."

Q: Is it not confusing as an acting experience?

Karen Gillan: "We know what we need to know."

Steven Moffat: "I didn't tell Matt either. Only Alex knew. But then within the story only Alex knows. And, to be honest, it's just an awful lot more fun. Especially as Alex took it so seriously that every time she walked up to me on set she'd clutch her hand to her bosom as if she was just a little bit excited talking to me, to cover her radio mic. And I'd stand there watching the three of them standing on the Tardis set going, 'We're the leads!'

"There is a kind of serious side to it. If you tell people what's coming up in a script, their ability to respond to that script is absolutely diminished. They only have one shot at doing it – they should read the script as the audience will experience, so they can reproduce that feeling. If you tell them everything in advance then you rob that from them."

Arthur Darvill: "There's nothing more exciting than turning up to work and seeing new scripts."



More...